Press Releases and Articles
Better Block at Market Square draws people to downtown
For musician Miguel Zúñiga, there was a time when downtown seemed like an undesirable place, but he said his perception was changed by the Better Block Brownsville event on Saturday.
"I remember of a couple of years ago going to lower Brownsville was a scary idea," said Zúñiga, of San Benito. "It's not as bad as I thought. It's not bad at all, actually."
He accompanied singer Noe Saenzon guitar at the Experience Market Square event as a crowd wan-dered among artists and vendors under the shade of trees and tarps. It was the second time the city of Brownsville, United Brownsville and other organizations teamed up for the revitalization effort. The one-block Market Square area was temporarily turned into a lively place where visitors could leisurely spend time in historical downtown and enjoy music and other activity.
Zúñiga and Saenz, a Brownsville resident, said the event welcomed a diversity of music genres and served as a new and different open-air venue. They said they usually perform at bars.
"More people should come and see this, especially because it's more about the arts," Saenz said. "There's a lot more Brownsville has to offer than its perception."
Organizers set up temporary bike racks and the Rio Bravo Wildlife Institute's Bike Barn lent bicycles at no charge for people to ride around the block. Chess boards, bistro tables and a giant chess board man-aged by the University of Texas at Brownsville and Texas Southmost College chess team were also set up.
To beat the heat there was free water, and the city hosted free Wi-Fi for anyone in the Market Square area to use.
Laura and Manuel Quezada said Saturday was the first time their 8-year-old daughter, Daniela, had spent time in the downtown area.
"I like it a lot," Laura Quezada said of the event.
"It looks different," Manuel Quezada said. "We haven't been to downtown Brownsville in a long time."
He said downtown has its own historical character but that the growth of north Brownsville has had an effect.
"The north side has really developed," he said. "There's really no need to come down this way."
Still, the Quezada family said they enjoyed the event. The only suggestion, Laura Quezada said, might be to increase awareness about it through TV and newspaper advertisements. She added she felt secure after noticing police officers patrolling the block.
"I love it," Manuel Quezada said. "I think they should keep on having it."
Armando Cortez, a 19-year-old UTB-TSC student from Matamoros who is on the chess team, said peo-ple seemed excited about the event.
"I've seen the people enjoying it," he said. "I can see it in their faces."
Brownsville organizations to host three-day event
By JACQUELINE ARMENDARIZ/ The Brownsville Herald
EARTHFEST 2012 EVENTS :
Friday
Brownsville EarthFest: Love Re-Evolution from 9 p.m. to 7 a.m. at the Lincoln Park amphitheatre
Brownsville EarthFest: Border Block Party from 7 p.m. to 12:30 a.m. at Galeria 409 (Tickets are $10)
Saturday
Brownsville EarthFest: Rio Bravo No-Gas Parade from 9:30 a.m. to 11 a.m. starting at Lincoln Park to downtown Market Square to Linear Park
Brownsville EarthFest: Kids No-Gas Parade contest is at 10 a.m. in downtown Market Square
Brownsville EarthFest: Rio Barvo Healthy Kids Cookoff from 9 a.m. to noon at the Farmers Market in Linear Park
Brownsville EarthFest: EarthFest concert from 10 a.m. to 6 p.m. at the Farmers Market in Linear Park
Symphony in the Park: "Chanclas and Tchaikovsky" program fundraiser at Washington Park. Grounds open at 5:30 p.m. Concert is at 8 p.m. (Tickets are required.)
Brownsville EarthFest: UTB Rock N' Beats from 5 p.m. to 10 p.m. on the university student union lawn.
Sunday
Brownsville EarthFest: Love Re-Evolution from 10 a.m. to 10 p.m. at Lincoln Park.
(Unless noted otherwise, all events are free.)
This weekend Brownsville is jammed packed with outdoor celebrations of literacy, the Earth and music.
Tonight through Sunday is Brownsville EarthFest 2012, which is hosting a multitude of installations at different locations near downtown as Earth Day falls on Sunday this year. In a separate event, this Saturday is the long-time community staple from the Brownsville Literacy Center: the 14th annual Symphony in the Park concert.
Brownsville EarthFest 2012 has brought together the city of Brownsville, the Parks and Recreation Department, the Brownsville Society for the Performing Arts and the Rio Bravo Wildlife Institute to host the three-day event.
This year the literacy center's annual fundraiser will be at Washington Park instead of its usual location on the University of Texas at Brownsville and Texas Southmost College campus. Park grounds open at 5:30 p.m. and the concert begins at 8 p.m.
The center is marking its 26th anniversary of service as a United Way agency this year with the "Chanclas and Tchaikovsky" program.
Victor Rivera, director of the Brownsville Literacy Center, said the concert's proceeds are crucial because they make for one-third of the non-profit's annual budget.
"It is our major fundraiser for the center," he said.
The Valley Symphony Orchestra, under the direction of Maestro Peter Dabrowski, will travel from McAllen to perform.
Families are encouraged to arrive early and bring blankets, lawn chairs, and picnics to enjoy before and during the performance.
UTB-TSC early childhood education students will supervise activities they created for "Play Day at Symphony" to welcome any young music lovers in the audience.
Organizers said new for this year is the "Taste of Symphony" VIP tent and a "bucket" auction.
The VIP tent will feature food from restaurants throughout Brownsville and South Padre Island, Rivera said. The auction, rather than the standard setup where bidders sign and name prices, is more of a drawing, he said. Individuals may purchase several tick-ets at a time that will then be dropped into a bucket to be drawn from for prizes.
Rivera said the center's three major programs are centered around English as a Second Language education. There are on-site ESL classes, a mobile lab that offers the same programming for those without transportation and a family literacy class where mothers learn along with their children, ages 3 through 4, as the youths receive pre-literacy education.
The non-profit said it serves more than 1,000 students annually and continues to look for more instructors and volunteers to aid in its mission.
Tickets for the Symphony in the Park concert are $8 for ages 13 and above, $4 for children 12 and under; and free for children 3 and under. Entrance to the "Taste of Symphony" VIP tent is $50.
Bike Barn brings bicycle basics to the community
By LAURA B. MARTINEZ/The Brownsville Herald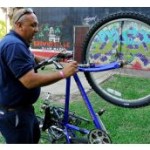 Joe de la Garza teaches a bicycle safety class to a group of people gathered outside the Bike Barn on Thursday at Tony Gonzalez Park in Brownsville. The Bike Barn will offer repairs for bicyclists in the community.
There is a place on the Southmost side of the city where you can learn all about bikes. You can learn bicycle safety, bicycle etiquette and even how to repair your own bike.
The city of Brownsville's Parks and Recreation Department teamed up with the Rio Bravo Wildlife Institute to open a Bike Barn at Gonzalez Park. Inside the Bike Barn safety classes are held. There is also an area for bike repairs.
Joe Boswell, outreach director of Rio Bravo Wildlife Institute, said the groups sat down together to discuss what could be done to get more people to ride their bicycles. After discussion, they decided opening a Bike Barn could be the answer to their question. "We thought it would be cool to get a bicycle co-op, to be able to work on our bicycles and to get bikes for kids and spread awareness," Boswell said. The Bike Barn has been open for about a month and for now, it is providing bicycle safety classes. Boswell said there are lots children that ride their bicycles along the city streets and the Bike Barn allows them to some safety tips on bike riding.
The Bike Barn is also looking for bikes no longer in use, bike pedals, bike parts, helmets gloves and apparels. They are also seeking grease, chain tools, allen keys, wire cutters and other equipment are needed. Boswell said this initiative also allows people who have broken bikes that need minor repairs — stuff inside storage sheds and garages — to learn how to fix their bicycles and keep them tuned up.
"There are probably just tons of kids bikes around here that are probably just gathering dust in garages or are being trashed or metal scrapped when all they really need is some cleaning, some greasing and some new tire tubes," Boswell said. "We want to kind of get our hands on those and get the local youth and adults too learning how to fix their own bikes. Our goal is to have people to build their own and get one for free if they can't afford one," Boswell said.
Bikes that are surpluses will be given to a public bikes program. Chris Patterson, director of the city's Parks and Recreation Department, said the Bike Barn is yet another tool the city can use to teach the city's youth about living healthy lifestyles. It is also another way to get them engaged in positive activities in the city, Patterson said.  "It's a pretty cool deal. It gives them something to do. They are making something and they kind of feel accomplished," Patterson said.
Cobbleheads Bar and Grill is also helping the Bike Barn by participating in the "Change for Change" Program.  A percentage of Cobblehead's sales, all day and night, every Thursday will go directly to fund bicycle-related projects and initiatives of Rio Bravo Wildlife Institute. For more information on the program, contact the Rio Bravo Wildlife Institute at (956) 587-9567
Brownsville Bike Barn is Born!
Channel 23 News
POSTED: Tuesday, February 21, 2012 – 15:06 UPDATED: Wednesday, February 22, 2012 – 08:44
BROWNSVILLE  — The Brownsville Bike barn has been born. The facility is located in Gonzales Park and will act as a hub for cycle enthusiasts to learn a thing or two about bicycle maintenance and maybe even in the process, nudge people into making the transition from driving a gas powered car to getting around on an eco-friendly bike.
"When they come here they can learn how to assemble a bike, how to assemble their own bicycle, help others fixing bikes, and maybe paint bikes or whatever it is to have their bikes ready to go," says Brownsville Bike Brigade founder, Rosio Torres.
The Brownsville Bike Brigade partnered up with the Brownsville Parks and Rec. Department and the Rio Bravo Wildlife Institute to get this thing going.
The founders say there are several advantages to making the switch, health of course being one of the advantages, but it's also a huge plus for the environment because it would reduce greenhouse emissions.
"Statistically, people ride on average or drive their car ten minutes to their workplace, change it to a bicycle ride, you'd be doing yourself a favor," says Brownsville Bike Brigade Founder, Cat Tamez.
Basically, you'd be getting fit while your pocket book gets a little fatter. Tamez says based on that statistic, people could save about 800-bucks a year in gasoline costs.
Joe Boswell, Outreach Director for the Rio Bravo Wildlife institute, says that he and others from the non-profit organization picked up yet another interesting stat at a City of Brownsville comprehensive bicycle and pedestrian planning meeting.
"Thirty-percent of Brownsville are car drivers, only 30%, that means 70% of Brownsville are pedestrian or bicyclist or they just don't go anywhere. So with this, putting all these people on bicycles, working with the city to create bike trails, having this hub of bicycle safety and info, we can kind of cater to the real demographics of people who need to transport themselves around the city," says Boswell.
The Brownsville Bike Barn and the Brownsville Bike Brigade really offers residents here a chance to get health, clean up the environment and well, make some new friends along the way.
Starting tomorrow through Saturday the Brownsville Bike Barn will hold an inaugural bike swap.
Brownsville Bike Barn Inaugural Swap Meet
Brownsville Bike Barn at Gonzalez Park
24 Tony Gonzalez Drive, Brownsville, TX.
Wednesday, Feb. 22nd 4-7 pm
Thursday, Feb. 23rd 4-7 pm
Friday, Feb. 24th 4-7 pm
Saturday, Feb. 25th 8-11 am
List of Suggested Donation Items:
Bike Stands, used bicycles and bike parts. Helmets, gloves, and apparel. Tools such as grease, chain tool, allen keys, wire cutters, pedal wrench, hacksaw, nuts/bolts (or headset press), adjustable wrench, bottom bracket tool, screw driver, workbench, welding equipment, pipe bender.
Stay tuned with the Brownsville Bike Brigade on Facebook, Rio Bravo Wildlife Institute, and the Brownsville Parks and Recreation Dept. for upcoming bicycle events.
General Info for Bike Brigade rides can be found by calling 956-508-3BEE.
General Info for the bike barn is available at Rio Bravo Wildlife Institute website : www.rbwi.org/what-we-do/nature-friendly-living/the-bike-barn
Community gardens springing up in Brownsville
February 12, 2012 10:11 PM
By JACQUELINE ARMENDARIZ/ The Brownsville Herald
In Brownsville a local green thumb movement of sorts may be under way as the city and other groups team up to create community gardens.
The vibrant green of fresh produce and herbs like carrots, dill, peppers, basil and more was evident Friday in the community learning garden at Lincoln Park off of University Boulevard.
The produce and the garden are the product of a working relationship between the Rio Bravo Wildlife Institute and the City of Brownsville's Parks and Recreation Department.
Parks Director Chris Patterson said plans for another community garden downtown are in the works with the hope that the projects will encourage all residents to help improve life in Brownsville.
"It's the whole community's job to make sure that revitalization occurs," he said while discussing future plans.
The Lincoln Park garden was established in winter 2010, said Joe Boswell, RBWI outreach and development director. The non-profit entered into a memorandum of understanding with the city for use of the public land.
The garden is a place for residents to learn what works and what doesn't in order to hone their own gardening skills, Boswell said, and in turn people gain understanding about where their food comes from. With this, the RBWI's conservation mission is promoted because they've become better stewards of the land, he said.
"It doesn't take much," he said of creating a community garden. "You just need space, dirt and man hours."
There are thousands of community garden listings across the U.S. and Canada, while there are 45 in Texas, according to the American Community Garden Association's informal database.
With the help of other groups like the RBWI, a garden near the city recreation center at Eighth and East Tyler streets may soon be organized for area children, Patterson said.
"I don't have the personnel, and we probably never will have the personnel, to be able to handle what needs to be done in this city," he said. "It's tough for any city to just do stuff on their own. They've got to have your churches, community groups, volunteers, people with community service hours."
He said the Brownsville Farmer's Market, with its experienced vendors, has also expressed interest in working with the city to create another community garden.
Market manager Jack Moffitt said plans are in the brainstorming stage and the organization is looking into applying for a Texas Department of Agriculture grant that might help.
"We've got a lot of enthusiasm," he said.
Boswell said the RBWI — which hosts gardening classes, yoga and other activities at Lincoln Park —sees the garden as a tool in the fight against obesity and diabetes, both prevalent health conditions here. He said that people become more active outside while tending the garden and there's the added benefit of eating the healthy greens grown there.
"I want to create another dozen," he said. "What we'd like to see is one in everyone's backyard and in back of every church.
Boswell also said he hopes to bring such projects to Brownsville Housing Authority developments.
"Food has always brought people together," he said.
Community gardens do require the dedication of an entire group. In the RBWI garden's case, the caretaker is Lyle Muzingo, Boswell said. Currently, the Lincoln Park land still has room for gardens created by other groups, he said, adding that interested organizations should call the RBWI.
Beyond some potential health benefits, gardens will bring better use of urban lands, Patterson said.
Brownsville has the benefit of having lots of green space, which urban areas usually lack, but the dilapidated spaces that are here can be taken back by communities who want to create a garden, he said.
"You know how people talk about the economy and all this kind of stuff. If we use everybody's resources, it doesn't matter if they cut our budget, we're going to get it done," he said. "We just have to be more resourceful. … If you have a vacant lot, you're attracting all kinds of stuff. Whereas if you have a garden, the people in that neighborhood tend to take care of it."
He encouraged residents to tap into resources like the RBWI for help in creating community gardens on their own private lands. He also said residents should suggest potential vacant lots that might be transformed or areas with rundown buildings that might be razed.
"I've pretty much said it since I've been here: In the City of Brownsville we have a pool of 175,000 people that can help out the parks," Patterson said. "That means every citizen has the opportunity to come to our department and just tell us what they want to do for the community. We don't turn them down."
To reach Patterson, email ctpatterson@cob.us or call Boswell at (404) 729-2644
Environmental group drives home message with biodiesel 'Eco Bus'
By STEVE CLARK, The Brownsville Herald
The Rio Bravo Wildlife Institute's "Eco Bus" may be blue on the outside, but it's all green otherwise — considering the bus is a rolling classroom for environmental sustainability and runs on biodiesel made from used vegetable oil.
Rio Bravo's leadership envisioned a bus as an effective way to conduct its mission of environmental education, promoting sustainable living and so on. The group went to the Walmart Foundation for help and secured a $100,000 grant for the Eco Bus outreach project, which will include a 2011 "Lone Star Tour" of six Texas cities.
The tour kicks off at the Walmart at 7480 South Padre Island Highway on Wednesday and runs through Friday. From 3-7 p.m. each of those days, the Eco Bus crew will give presentations. Joe Boswell, Rio Bravo's outreach director, invites other ecologically minded organizations to come and advertise themselves. The tour will eventually take the Eco Bus and crew to Corpus Christi, Houston, Dallas, Austin and El Paso.
A portion of the Walmart grant paid for the bus as well as the apparatus that converts vegetable oil to high-grade diesel. The quest for a bus did not go smoothly at first. Boswell thought he'd located a good prospect in Baton Rouge, La., advertised for $2,000. When he and executive director Carol Sebastian arrived, however, they found the vehicle not quite as advertised, meaning driveable.
"It had a tree growing in the engine and the tires were rotten," he says.
But by a rare stroke of luck, Boswell and Sebastian  located a roadworthy retired school bus in New Orleans that had narrowly missed the auction block a week before. They handed over the $2,000 and  Boswell drove the bus, worth maybe three times that, back home to Brownsville. The biodiesel processor, which cost around $5,000, was customized to fit inside the bus — both as an educational feature and a mobile refinery for road trips.
While many environmentally conscious motorists around the country retrofit their diesel cars to run on straight vegetable oil, the processor aboard the Eco Bus makes modifications unnecessary. In some cities the used oil, which comes from restaurant fryers, has become a hot commodity so to speak — not an issue in Brownsville. Rio Bravo's processor can make 40 gallons of biodiesel at a time, with each batch taking about eight hours.
At 80 cents to $1 per gallon, including the cost of the methanol and sodium hydroxide required for processing, biodiesel is significantly cheaper than truckstop diesel, Boswell says. Regular diesel, which used to cost less than gasoline, is pushing $4 a gallon in some places.
"The average driver filling up their tank one or two times a month, (the processor) will pay for itself in a year," Boswell says. "With a cross-country fleet driver, it'll pay for itself much sooner than that."
The Eco Bus has been a familiar sight at the Brownsville Farmers' Market during the current season. Last Saturday, it's appearance kicked off "Earth Fest," a nearly month-long series of environmentally oriented activities that leads up to Earth Day, April 21. The signature Earth Fest event takes place April 16 at Linear Park, next to Gladys Porter Zoo, from 9 a.m. to 1 p.m., in conjunction with the Brownsville Farmers' Market. The Eco Bus will headline.
While anyone with a diesel-powered vehicle can burn biodiesel or — with a retrofit — straight vegetable oil, Boswell doesn't expect it to completely replace petroleum-based diesel. Rather, Rio Bravo's purpose is to make people think about how they consume energy, and consider alternative energy solutions.
"It's not a long-term option for the whole automobile-driving population, but it is an option for a small section of the population right now," he says. "I think more important is the idea behind it. As far as I know we're the first ones to do it here."
Rio Bravo works to beautify Brownsville
November 05, 2010 9:23 PM
The Rio Bravo Wildlife Institute is working to make Lincoln Park in East Brownsville a green space with a lot more to offer than the usual playground amenities.
The association plans to create an Urban Ecology Center on the grounds — a facility they hope will serve as an "interactive learning laboratory," with community gardens, trails and nature and exercise activities, including free yoga. It will host an open house at 6 p.m. today at the park on University Boulevard to gather ideas and suggestions from area residents.
"If we are going to make it happen, we need help from different parts of the community," said Joe Boswell, outreach director for Rio Bravo Wildlife.
The institute is working on the project in conjunction with the Brownsville Parks and Recreation Department. Boswell said they hope to have different organizations and schools adopt vegetable gardens and trails. They also are looking for volunteers.
The park will be another option for children, aside from the typical mall outings and the movies, Boswell said. Plus, students can get a lot out of nature, he said.
"Math, science … nature allows for interdisciplinary studies," the outreach director said. "Environmental education is important for our kids."
A few volunteers were already at the park Friday preparing for today's open house. Anna Thornock and her daughter were helping design a nature trail. Thornock's son, a 15-year-old Eagle Scout, is planning to make a raft out of plastic water bottles for use at the marsh sidelining the park.
Thornock said she and her children became involved with Rio Bravo Wildlife's project to help the community.
"It is going to beautify Brownsville and introduce people into organic, natural things," she said
St. Valentine's Ocelot Gala scheduled for Friday
February 10, 2010 9:52 PM
LOS FRESNOS — Sihil the ocelot will fly here from Cincinnati for a Valentine's Day celebration in her honor.
She will appear at the Rio Bravo Wildlife Institute's St. Valentine's Ocelot Gala on Feb. 12 to raise awareness about the ocelot — only about 50 remain in South Texas — and to raise money. The gala will be held at the Inn at Chachalaca Bend, 36298 Chachalaca Drive No. 1 from 7 p.m.–midnight and will feature a live auction, dinner and dancing. Single tickets are $100.
"This event, it's basically a big fundraiser to kick off our Project Ocelot campaign," said Joe Boswell, outreach director. "And it's a way for members from all over the community to kind of get to know each other and bring all the different refuges together. One of our biggest initiatives is education, and so this is a way to kind of get businesses and schools involved in knowing about the endangered species in the area."
Sihil is a very special ocelot, said Lisa Torch, public relations director for Rio Bravo Wildlife Institute.
"Sihil, the Mayan word for 'born again,' is a most appropriate name for the Cincinnati Zoo and Botanical Garden's ocelot, which was conceived in a petri dish and then frozen for three years," Torch said in a press release. "She was implanted in a surrogate mother at the zoo, and she came into the world Aug. 16, 2000."
One of the most important objects of the Rio Bravo Wildlife Institute is to increase awareness of the ocelot's existence, said Carol Sebastian, executive director of the wildlife institute. While the Florida panther, Indian tiger, and African lion are well known, the ocelot is not as popular.
"The ocelot is not a well-known cat and so we need to raise the actual awareness that this cat exists and that this cat needs our help, just as all the other cats do," Sebastian said.
All concerned citizens can do something to protect the ocelot, said Sebastian.
"If you're a private landowner you can help the ocelot by preserving your habitat for the ocelot," she said. "As you well know the majority of land in South Texas is privately held and there's a lot of good habitat on private land. Bring in the schoolchildren, so that they are aware of the ocelot and its needs, and the benefit that it brings to the community. From the business standpoint, it's a great eco-tourist attraction."
Sebastian said some ranchers set up photo blinds so that nature lovers and photographers can take pictures of the ocelot.
"If there were more of those that would do a lot of things," she said. "It would benefit the economy, be a tourist benefit, and it would certainly raise the awareness that the ocelot exists in this area. So there is a lot that can be done that doesn't require a great deal of action on the part of whoever is doing it."
Earth Fest to offer activities, entertainment
April 14, 2011 10:04 PM
By Melissa Hernandez, The Brownsville Herald
Brownsville area residents will have a chance to celebrate the 42nd year of Earth Day with Earth Fest 2011 on Saturday.
The city of Brownsville, Rio Bravo Wildlife Institute, Healthy Communities of Brownsville and the Parks and Recreation Department are all participating in the planning.
At 7 a.m. walkers, joggers and bikers are welcome to join the grass-roots parade that will cover the mile and a half from Lincoln Park to Linear Park, between 6th Street and Ringgold. Those wanting to participate are asked to contact Joe Boswell, captain of Brownsville's eco-bus, at (956) 504-9563.
The festival will then run from 9 a.m. to 1 p.m.
The Brownsville Farmers' Market will be promoting healthy eating with farm fruits and vegetables, raw honey, herbs and other organic foods.
Entertainment will include music, and among the performers will be Mr. Whiskey, a popular bluegrass band around the Valley.
Incarnate Word School will host a Trashionista Fashion Show.
The arts and crafts fair will feature 70 Mexican artisan vendors.
Healthy Communities of Brownsville will be collecting used tennis shoes for the shoe project NIKE Reuse, and donors will receive a T-shirt.
Fashion designer Gabie Conner from the project Upcycle Way will be collecting plastic bags, bottle caps, CDs and DVDs, pull tabs, and Capri sun packages to recycle.
For more information regarding Earth Fest contact Rose Timmer at (956) 882-5067 or Shannon Gutierrez at (956) 547-6872.
Admission is free, and everyone is encouraged to bring their own bag for items they might want to purchase.
In the U.S., Earth Day has been celebrated each year since 1970, and in the intervening years had spread around the world.
In 2009, the United Nations designated April 22 as International Mother Earth Day.
Valley group organizes wildfire relief drive
September 09, 2011 3:46 PM
The Rio Bravo Wildlife Institute's Eco-Bus, filled with volunteers and supplies, will travel to Bastrop next week to help residents affected by the wildfire there.
Local volunteers will pack up the bus and leave Tuesday for a weeklong relief effort trip. Joseph Boswell, Rio Bravo Wildlife Institute outreach director, said they are still looking for volunteers interested in making the trip.
Once there, the volunteers will partner with the Austin Disaster Relief Network to deliver the donations and help with clean-up efforts.
"Even if you can't come and stay with the bus for the whole week, you can road-trip up with us or meet us there for part of it," he said.
Donations for the trip will be taken Sunday at Lincoln Park in Brownsville. Residents can stop by anytime from 1 to 6 p.m. to drop off items. Items specifically being requested include diapers, nonperishable adult and baby food, dog kennels and heavy-duty trash bags.
More information on the donation drive can be found on www.rbwi.org.
Anyone interested in traveling to Bastrop to help with the relief efforts can contact Boswell at 404-729-2644 or jboswell@rbwi.org.
Student Life hosts Green Summer Fest at UTB-TSC
July 26, 2011 9:29 PM
By Sofia Medrano The Brownsville Herald
The Sustainability Council and Office of Student Life  and Rio Bravo Wildlife Institute hosted their first Green Summer Fest Tuesday on the Student Union lawn at the University of Texas at Brownsville and Texas Southmost College.
The event was free to the public and featured different stakeholders who offer recycling services and community gardens to promote sustainability and create campus awareness of renewable resources.
The Port of Brownsville Recycling Company was among several firms there to inform students of their services and promote recycling. They buy cans, scrap metal and nonferrous items such as copper from the public for recycling.
"We're promoting not necessarily our business but for us to be in a nicer environment," Claudia Gaytan, a representative from the company, said.
Brian Johnson, IDEA Frontier Academy farmer, was there displaying fresh plants and vegetables grown on the IDEA Frontier Farm. Brownsville children do the cultivating there, and within the next year, they hope the farm will be able to provide all the fresh vegetables used in the campus cafeteria.
Gloria Alcaraz, a UTB-TSC student and assistant to Johnson, has volunteered time to help water and weed the plants at the farm. She and other students have also been volunteering to help Johnson on his latest project, building a greenhouse out of plastic bottles. The recycled bottles come from local residents and from recycling companies in Brownsville and Olmito.
"I'm trying to change the world," Johnson said.
Other entities participating in Tuesday's event were the Brownsville Farmers Market, Farmers Market Perennial Favorites, ESCO Marine Inc., Brownsville Scrap Paper Inc., McAllen Public Works, the UTB-TSC Go Green Assistance Center, La Senda Verde and the city of Port Isabel Recycling Center.
"We want people to be aware of our company and all the services we provide," said Ruben Guerrero Jr., plant manager of Brownsville Scrap Paper Inc. "We are the only company in the Rio Grande Valley that recycles this many materials. Not only do we recycle them, but we pay people to bring them in."
Maria Barrera-Jaross, government and public relations director at ESCO Marine Inc., said her company had created 400 jobs at the Port of Brownsville.
"Our service to the community is that we buy things like aluminum, cars and refrigerators so that all this won't be dumped on the side of the road," she said.. "We are also working in conjunction with the city of Brownsville, Brownsville Police Department and Cameron County to take in confiscated guns and recycle the metal."
Also on Tuesday, documentaries provided by the Rio Bravo Wildlife Institute were shown in La Sala at the Student Union. Free food and drinks were offered, and local bands provided entertainment. Both children and adults enjoyed water guns and balloons that were provided to help cool off.
The Sustainability Council held its first major event on Earth Day in April, which served as the council's introduction to the student body.
Jennifer Morales-Munoz, a member of the Sustainability Council, stated that the group hopes to host many more events promoting conservation awareness.
"This is really important to our community," she said. "We really hope to spread this message."
Rio Bravo Wildlife Institute Receives Environmental Grant from Walmart Foundation for "Eco-Bus" Lone Star Tour
The Walmart Foundation has provided the Rio Bravo Wildlife Institute (RBWI) with a Texas State grant for $100,000 to support an Eco-Bus outreach initiative designed to reach out to individuals and communities with information and tools they can use to live more sustainably

.

t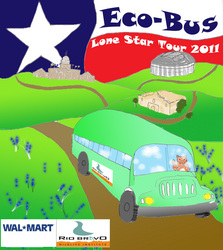 The Eco-Bus Lone Star Tour is an initiative of the Rio Bravo Wildlife Institute made possible through a grant from the Walmart Foundation.  At Walmart, sustainability continues to make us a better company by reducing waste, lowering costs, driving innovation, and helping us fulfill our mission to save people money so they can live better.
Brownsville, TX (PRWEB) February 16, 2011
The Walmart Foundation has provided the Rio Bravo Wildlife Institute (RBWI) with a Texas State grant for $100,000 to support an Eco-Bus outreach initiative designed to reach out to individuals and communities with information and tools they can use to live more sustainably.
The Eco-Bus will be retrofitted to be a rolling demonstration model for green living. It will use renewable energy and include a variety of state-of-the-art features aimed at reducing its impact on the environment.
As part of its "Lone Star Tour" in 2011, the RBWI Eco-Bus will visit six cities around the state, where it will become a showcase for sustainability. Consumers will have the opportunity to tour the bus and hear from its onboard team of Earth Ambassadors who will share their knowledge and insights on a range of topics related to the environment. In addition to the Eco-Bus's activity, Earth Ambassadors and Walmart associates will join together in a planet stewardship project to benefit the community.
"We are pleased to be working with Walmart on this initiative," says Carol Sebastian, Executive Director of Rio Bravo Wildlife Institute. "The Eco-Bus offers a creatively fun way of joining hands with our communities to work together to live more sustainably. This grant literally puts a first-of-its kind approach 'on the road' to help improve the well-being of our communities, right now and for generations to come."
"At Walmart, sustainability continues to make us a better company by reducing waste, lowering costs, driving innovation, and helping us fulfill our mission to save people money so they can live better," said Jeff McAllister, Divisional Senior Vice President for Walmart Stores in Texas. "We proudly support projects like the Rio Bravo Wildlife Institute's Eco-Bus that help make sustainability accessible and practical."
The Rio Bravo Wildlife Institute is committed to creating a healthy planet for nature and people. The organization's approach to sustainability is centered on Creating Uncommon Connections for the Common Good and is integrated with social, economic, environmental and cultural values at all levels. For more information, visit http://www.rbwi.org.