Chef in the Garden (healthy recipes)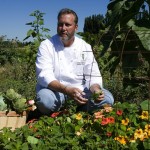 Healthy Eating from the Garden
Heirloom Tomato and Eggplant Stacks


Stack up eggplants, tomatoes, cheese and herbs to create a delicious snack
Serves: 4
Prep: 12min
Cook: 8min
Total: 35min

Ingredients
• 1 log (4 ounces) soft goat cheese, softened
• 2 tbsp finely chopped fresh basil
• 1 tbsp chopped fresh thyme
• 1 large eggplant, about 1 lb
• 3/4 tsp salt
• 3 tsp extra-virgin olive oil
• 1 tbsp balsamic vinegar
• 1/4 tsp dijon mustard
• 1/4 tsp ground black pepper
• 2 medium heirloom tomatoes in assorted colors, cored and thinly sliced crosswise into 4 rounds
Directions
1. Combine goat cheese, basil, and thyme. Set aside. Prepare grill.
2. Cut eggplant crosswise into 1/2- inch-thick slices. Place in a colander and sprinkle with 1/2 teaspoon salt; toss to mix. Let stand 10 minutes. Rinse and pat dry. Brush slices with 1 teaspoon oil and grill for 4 minutes; turn over and continue grilling for 4 to 5 minutes, or until tender.
3. Combine remaining 2 teaspoons oil, vinegar, and mustard, and whisk to blend. Stir in remaining 1/4 teaspoon salt and pepper.
4. To assemble stacks, place 1 eggplant slice on a plate. Top with an eighth of the cheese mixture and a slice of tomato. Drizzle with 1/2 teaspoon vinaigrette. Add another slice of eggplant, cheese, tomato, and a final slice of eggplant; top with 1 teaspoon vinaigrette. Let stand 5 minutes to allow cheese to melt.
Nutritional Facts per serving
Calories 178.1 Cal
Fat 12.3 G
Saturated Fat 6.4 G
Cholesterol 22.4 Mg
Sodium 596 Mg
Carbohydrates 10.6 G
Total Sugars 5.6 G
Dietary Fiber 4.7 G
Protein 7.9 G
Calories 178.1 Cal
Grilled Vegetable Panzanella Salad
• Serves: 6
Prep: 10 min
Cook: 10 min
Total: 30 min
Ingredients
• 1/4 C red wine vinegar
• 1/4 C extra virgin olive oil
• 2 tbsp capers, coarsely chopped
• 1 lg clove garlic, minced
• 10 oz sliced seeded whole grain bread, toasted and cubed
• 1 lb tomatoes, cut into bite-size wedges
• 3 1/4 C leftover grilled vegetables (such as peppers, zucchini, eggplant, and red onion), coarsely chopped
• 3/4 C fresh basil, torn
• 2 tbsp shaved parmesan
Directions
1. Whisk vinegar, oil, capers, and garlic in large serving bowl.
2. Add remaining ingredients except Parmesan. Season with sea salt and pepper to taste and toss gently to coat. Let stand 10 minutes at room temperature so flavors develop.
3. Top with Parmesan and serve.
Nutritional Facts per serving
Calories 262.3 cal
Fat 12.3 g
Saturated Fat 2.1 g
Cholesterol 1.5 mg
Sodium 383.7 mg
Carbohydrates 30 g
Total Sugars 8.2 g
Dietary Fiber 6.6 g
Protein 9 g
Tomato Watermelon Salad


A fun salad that is also a delicious and healthy summer treat.
Serves: 4
Prep: 10min
Cook: 0min
Total: 10min

Ingredients
• 4 cups coarsely chopped tomatoes (about 1 1/2 pounds)
• 2 cups coarsely chopped seedless watermelon in a serving bowl.
• 2 tablespoons olive oil
• 1 teaspoon balsamic vinegar
• 1/2 teaspoon salt
• 1/4 teaspoon black pepper
• 2 tablespoons chopped fresh mint.
• 1/4 cup chopped pistachios
Directions
1.Combine 4 cups coarsely chopped tomatoes (about 1 1/2 pounds) and 2 cups coarsely chopped seedless watermelon in a serving bowl. Toss with 2 tablespoons olive oil, 1 teaspoon balsamic vinegar, 1/2 teaspoon salt, 1/4 teaspoon black pepper, and 2 tablespoons chopped fresh mint. Top with 1/4 cup chopped pistachios.
Nutritional Facts per serving
Calories 160.8 Cal
Fat 10.8 G
Saturated Fat 1.4 G
Cholesterol 0 Mg
Sodium 302 Mg
Carbohydrates 15.4 G
Total Sugars 10.3 G
Dietary Fiber 3.4 G
Protein 3.7 G
Orange Couscous Salad


Olives, oregano, and orange combine to make a light, fresh dressing for delicate couscous.
Serves: 4
Prep: 15min
Cook: 0min
Total: 15min

Ingredients
• 3/4 cup couscous
• 2 tablespoons organic orange juice
• 1 tablespoon fresh oregano
• 1 teaspoon grated orange peel
• 1/2 teaspoon salt
• 1/4 teaspoon freshly ground black pepper
• 1 cup boiling water
• 11 1/2 ounces mandarin orange slices, drained
• 2 scallions, thinly sliced
• 1/2 cup chopped fresh parsley
• 1/4 cup pitted and sliced kalamata olives
• 1 tablespoon olive oil
Directions
1. In a large bowl, combine the couscous, orange juice concentrate, oregano, orange peel, salt, and pepper. Stir in the water. Cover and let stand for 5 minutes, or until the liquid has been absorbed.
2. Fluff with a fork. Add the oranges, scallions, parsley, olives, and oil. Toss to coat well. Serve immediately.
Nutritional Facts Per Serving
Calories 235.6 cal
Fat 6.7 g
Saturated fat 0.9 g
Cholesterol 0 mg
Sodium 489 mg
Carbohydrates 38.7 g
Total sugars 10.3 g
Dietary fiber 3.5 g
Protein 5.6 g
Grilled Stuffed Eggplant
Serves: 6
Prep: 15 min
Cook: 25 min
Total: 40 min
Ingredients
• 3 small eggplants, halved lengthwise
• 1/4 cup grated Parmesan cheese
• 1/4 cup seasoned dry bread crumbs
• 3 plum tomatoes, finely chopped
• 1 tablespoon chopped fresh parsley
• 4 cloves garlic, minced
• 1/4 teaspoon salt
• 1/4 teaspoon ground black pepper
• 2 tablespoons olive oil
Directions
1. Preheat a covered grill to medium-high.
2. With a small, sharp knife, cut a grid of 1/2″ squares on the cut side of each eggplant half, as close to the skin as possible without cutting through. Scoop out the f lesh of each eggplant and place in a medium bowl. Add the cheese, bread crumbs, tomatoes, parsley, garlic, salt, and pepper. Stir to mix. Stuff the mixture tightly into each eggplant half. Drizzle with the oil.
3. Place the eggplant halves in a disposable aluminum foil pan. Set on the grill. Cover and grill for 20 to 25 minutes, or until the eggplant is soft and the top is golden and crisp.
Nutritional Facts per serving
Calories 150.4 cal
Fat 6.5 g
Saturated Fat 1.4 g
Cholesterol 3 mg
Sodium 243.5 mg
Carbohydrates 21.2 g
Total Sugars 7.5 g
Dietary Fiber 9.9 g
Protein 5.2
SWEET POTATO COOKIES


INGREDIENTS
2 ½ cups all‐purpose flour
1 ½ teaspoon baking powder
½ teaspoon baking soda
¼ teaspoon salt
½ cup butter
¼ cup white sugar
1 ½ teaspoon grated lemon zest
¼ teaspoon ground nutmeg
¼ cup honey
1 egg
1 cup grated raw sweet potato
DIRECTIONS
1. Preheat oven to 350° F.
2. Sift flour, baking powder, baking soda and salt into a bowl, and set aside.
3. In a large bowl, cream together butter and sugar until smooth.
4. Stir in lemon zest, honey, nutmeg and egg until well blended, then mix in grated sweet potato.
5. Stir in the flour mixture using a large spoon until just blended in.
6. Form tablespoons of dough into balls, and place onto ungreased baking sheets about two inches apart.
7. Bake for seven minutes in the preheated oven, or until the edges are starting to brown lightly.
8. Let cookies cool on baking sheet for about five minutes before removing to wire racks to cool completely.
VEGGIE MEDLEY


~Vinaigrette
INGREDIENTS
1/4 cup balsamic vinegar
1 sprig fresh tarragon
1 sprig marjoram
1 tsp. salt & pepper
¾ cup oil
DIRECTIONS
1. Chop the fresh tarragon and marjoram well.
2. In a medium bowl whisk together the vinegar, herbs, salt and pepper.
3. Continue to briskly wisk the vinegar and seasonings while slowly adding the oil.
~Veggies
INGREDIENTS
2 medium beets
2 medium carrots
2 medium parsnips
1 leek
1 medium Spanish onion
1/2 tsp salt
DIRECTIONS
1. Wash, peel, and cut the beets into medium dice (½ inch cubes). Keep them separate from the other vegetables.
2. Wash, peel, and cut the carrots and parsnips into medium dice.
3. Thoroughly wash the leeks and cut into ½ inch pieces.
4. Peel the onion and chop.
5. In a mixing bowl, toss the beets with oil to coat. Roast beets in 350 degree oven for about 12 to 15 minutes, then rinse thoroughly before setting aside to cool.
6. Toss the carrots and the parsnips with oil and roast in 350 degree oven, about 12 to 15 minutes. Set aside to cool.
7. Toss the leeks and the onions with oil and roast at 350 degrees for 5 to 7 minutes. Set aside to cool.
8. In a large bowl, carefully toss together the beets, carrots, parsnips, leeks, onions, and balsamic vinaigrette.
9. Serve cold.
COLD GREEN PEA and LETTUCE SOUP with MINT PESTO


INGREDIENTS ~soup
8 ounces butter
10 green onions, chopped
2 pounds fresh or frozen green peas
3 heads bibb lettuce, coarsely chopped
4 cups vegetable broth
2 cups whole milk
2 cups heavy cream
1 tablespoon sugar
Salt, to taste
White pepper, to taste
DIRECTIONS
1. Heat butter in large pot. Add onions and sauté until tender.
2. Add peas and lettuce. Stir to coat with butter.
3. Add broth. Bring to a boil.
4. Reduce heat and simmer about 15 minutes.
5. Remove soup from heat.
6. Puree in batches in processor, slowly adding milk, cream and sugar.
7. Remove, season to taste with salt and white pepper.
8. Refrigerate until chilled.
9. Serve with Mint Pesto garnish
Mint Pesto
INGREDIENTS
8 tablespoons olive oil
½ cup pine nuts
¾ cup fresh Parmesan cheese, grated
1 cup fresh mint leaves
DIRECTIONS
1. Put all ingredients in food processor and process until smooth.
2. Serve as garnish with Cold Green Pea and Lettuce Soup.
SWEET and SPICY PUMPKIN KABOBS


For Marinade: Ingredients
1 cup water
4 oz tomato sauce
1 teaspoon minced garlic
1 teaspoon minced ginger
1 teaspoon ground coriander
1/2 teaspoon black pepper
1/2 teaspoon salt
1/4 cup honey
1 tablespoon vegetable oil
DIRECTIONS
1. Heat oil in sauté pan over medium heat.
2. Add garlic and ginger, and sauté for 1 minute.
3. Add tomato sauce, water, and coriander and bring to a slow simmer.
4. Stir in remaining ingredients and reduce by 1/3 to
5. Cool and use accordingly.
For Kabobs:Ingredients
1 pumpkin or squash, peeled and cut into 1″ square cubes
1 large yellow onion, diced into 1″ pieces
1 dozen 6″ bamboo or wooden skewers, presoaked in water.
DIRECTIONS
1. Alternately skewer pumpkin and onion, being sure to leave 2″ on the round end so it can be picked up.
2. With the round end of the skewer sticking up, place the skewers vertically in a container. Marinade in the Sweet Tomato Sauce making sure the round end of the skewer is not in the marinade. Leave in the container for several hours.
3. Remove from marinade when ready to cook, and cook 1.5 minutes on each side on a griddle or grill over medium high heat.